We want to provide you with everything you need to hold on to your faith and stand firm. You will find stories in which you can identify and that will inspire, tools that will give you confidence in helping, and teaching that arms you with the truth.
Hold_On Stories
Real life stories from real life challenges.
Discussing Christmas traditions with an excited group of children, a young boy's smile faded as he told me he couldn't spend Christmas with his daddy. I inquired further, expecting the boy to cite divorce or death as a reason. My mind began forming words to encourage the boy.
"He's in jail," he said.
I stammered slightly, unsure how to respond to this revelation.
Quietly, I replied, "You know, no matter what circumstance caused your daddy to be in jail, there is nothing God won't forgive unless a person doesn't ever accept Jesus."
As we created Christmas decorations together, I reminded those gathered around the table "Jesus is the reason for the season." Then I explained what the phrase means and why.
When we celebrate the birth of Jesus, we celebrate the depth of God's love for humanity. God loves us so much "… He gave His one and only Son, that whoever believes in Him shall not perish but have eternal life." [John 3:16 NIV]
Jesus. His name is not just the "name above all names." He is the King of Kings. The Lord of Lords. The Prince of Peace. The Messiah. The Savior of the World. His birth isChristmas. The first step on earth toward salvation for man.
Joy to the World!
Like this young boy, the blows of life threaten to chase away our joy. We know for many holidays magnify an endless list of struggles: the loss of loved ones; broken relationships; failing marriages; addiction; mental illness or physical health issues; financial worries; bitterness and anger; depression; unconfessed sin, and more. Even the volume of possible struggles is heartbreaking.
Christian joy is not a happiness based on how well things are going in our life. Perhaps the best description is an inner peace planted deep within the soul based on our faith and trust in Jesus Christ. The more we know Jesus, the more joy we experience – even in the heat of suffering.
Notice I did not say the more we know about Jesus. We may learn all there is to know about Jesus and still not have a relationship with him.
Since God desires a close and personal relationship with us, the trials and sufferings we face in this world should cause us to long for our Heavenly home. There is only one way to Heaven.
"Jesus answered, 'I am the way and the truth and the life. No one comes to the Father except through me.'" [John 14:6 NIV]
THE way.
THE truth.
THE life.
THE Father.
Singular. There is no other way to the One and Only Father except through His One and Only Son.
Jesus was born to die on the cross as the atonement for all our sins – past, present and future. Yours and mine. Not one of us is sinless.
"For all have sinned, and come short of the glory of God." [Romans 3:23 NIV]
Our punishment for that sin is eternal separation from God – much worse than jail – but God gave us a precious gift to restore us to Him.
"For the wages of sin is death, but the gift of God is eternal life in Christ Jesus our Lord." [Romans 6:23 NIV]

"But God demonstrates his own love for us in this: While we were still sinners, Christ died for us." [Romans 5:8 NIV]
Therefore, when we celebrate the birth of Jesus, we celebrate God's love and the gift of salvation. It is free to us, but not without cost. Jesus paid the price for us on the cross, and it is available to all who will accept it, just as we are. His blood washes us clean. We cannot do that on our own.
"If you declare with your mouth, 'Jesus is Lord,' and believe in your heart that God raised him from the dead, you will be saved. For it is with your heart that you believe and are justified, and it is with your mouth that you profess your faith and are saved." [Romans 10:9-10 NIV]
Everyone who calls on the name of the Lord will be saved." [Romans 10:13 NIV]
Without this birth, there would be no Jesus. No cross. No resurrection. No salvation. No hope. No peace. No joy. No reason for Christmas.
"Jesus is the reason for the season." It is not just a catchy phrase, or some singsong slogan.
It is truth.
Maybe you already have a deep, personal relationship with Jesus, but the hustle and bustle of holiday activities threatens to steal your joy. Maybe someone you love, like this young boy's father, is in prison. Maybe you feel shackled and weighted by something you are trying to carry alone. Maybe your soul has been crying for hope, peace and joy.
I pray whatever your circumstance, you have accepted or will accept the best gift to all humanity: Jesus
I pray you will surrender your heart, your burdens, and your will to Him. Among all gifts, the gift of salvation through Jesus Christ is the best gift we will ever receive, and the best gift we will ever share with others.
Share Him freely, and often.
After all, He is the reason we celebrate this season.
Merry Christmas.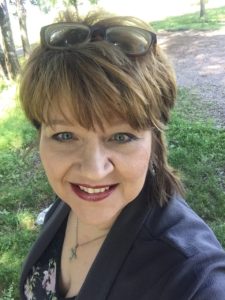 Rita Halter Thomas is a staff writer for Prophecy Simplified, providing HOLD ON Stories to encourage you to hold on to your faith. She is a pastor's wife and the mother of a college missions major. She is also an award-winning writer, the founder of The Write Editor,
http://thewriteeditor.com
, and a former newspaper and magazine publisher with 23 years' experience in print and digital media. Follow her on Facebook, Twitter or Instagram.
Read more...
---
Hold_On Podcast
Real life stories, insightful guests, dynamic teachings.
Hold_On Tools
Resources and articles that help you reach out.
Stand Firm_Teachings
Articles that provide the truth about standing firm.
Host a Stand Firm Emphasis Sunday.
Yes, this is self-serving, but experience proves that ministries, issues, and doctrines that are set-aside to be remembered in an emphasis day or some other like event in our churches become important to the church. They become interwoven into the church's DNA especially when that emphasis day becomes an annual event. Churches that recognize the Sanctity of Life Sunday—become pro-life champions. Churches who remember the International Day of Prayer for the Persecuted Church become churches that know and care about the persecuted church. This is true for missions, family, and any other issue that is set aside in the form of a special day. Regardless, if you choose to let SFM lead your Stand Firm Emphasis Sunday you need to do one. But there is value in bringing in a guest speaker especially for your first Stand Firm Emphasis Day. SFM also is able to provide you with pre-event messages, post-event lessons, and focused experience on the subject.
Continue Holding Annual Stand Firm Emphasis Sundays.
As mentioned above, Stand Firm Emphasis Sundays are powerful in establishing the importance of commitment, endurance, and perseverance in your church. These truths become part of your church's DNA when it becomes an annual event. To encourage you to make this an annual day on your church calendar, each year SFM will make available free a message outline, presentation slides, and promotional material for you each year after we partner with you to host your first Stand Firm Emphasis Day.
Listen and read our Hold-On Stories.
And again, this is self-serving I realize, but we are creating a large library of Hold On Stories written and in podcasts to be available for you to use. Research and experience shows that people are more likely to hold on to their faith when they hear they are not alone with the struggle, and that others have been through the same issues. Our Hold On Stories are available free on www.standfirmministries.com.
Tell Your Own Hold On Stories.
Stories and testimonies of struggling to hold on to one's faith are powerful tools to help someone not give up and leave the faith. Yes, we provide stories, but your church would be strengthened if church members shared their own stories at your church from the stage, in videos, in newsletters, etc. Let your people share their struggles to keep the faith and how they held on.
Talk about Standing Firm & Holding On.
The word "talk" was chosen intentionally. The next idea is to "preach" on standing firm and holding on. As you know, our sermons are quickly forgotten. They are important, but each week we go from subject to subject and passage to passage. The messages that truly takes hold in our congregations are those we "talk" about all the time and in all the things we do. They are the subjects we share when we share our "hearts." They are what is said in conversations, in song choices, in small group discussions, in newsletters, in social media posts, etc. Make standing firm and holding on just part of the natural flow of your conversations.
Preach On Standing Firm & Holding On
Although what we "talk" about becomes more of the DNA of a church than what we "preach," you need to regularly preach on standing firm and holding on. One of the responsibilities of the pastor is to prepare their congregation. These subjects don't even have to be the primary focus of every sermon, but you will have opportunity after opportunity to bring out this point in most sermons.
Talk & Preach about Persecution.
Since the distinction has been made between "talking" and "preaching" from here on out on this idea list the two will be combined. Persecution has been a regular topic for churches in Christian history and throughout other parts of the world but has not been addressed regularly in our churches in America. One of the most effective ways to inform your congregation, is to celebrate another emphasis day—the International Day of Prayer for the Persecuted Church.
Care about the Persecuted Church.
Again, it's not enough to just preach or teach on a topic, if you want to bring that issue into the continual conscious of your congregation. Encourage your church to continually care about the persecuted church. This begins with celebrating the International Day of Prayer for the Persecuted Church and preaching on persecution. But take it further by incorporating regular updates and sponsorship of ministries like Voice of the Martyrs, Open Doors USA, and others. One of the most, helpful tools we utilized in our church was to have a church member become a "church voice" for VOM within your church. Also I highly recommend Author Tom Doyle's books.
Talk & Preach About End-Time Prophecy
As Christians who have the Word of God, we can know a lot about what is coming. We have the TOOL to prepare our church for what lies ahead. We have 25% of our Bible that has prophecy. We just have to TEACH it. Navigating the subject can be tricky but check out our partner ministry www.prophecysimplified.com.
Talk & Preach about Heaven.
Not only does the Bible provide us with what is going to happen through end-time prophecy, but we also have the greatest motivation to "hold-on" and "stand firm." Just as we are given many details of the end-of-the-age, we are told a lot about Heaven and the coming Kingdom. This is our motivation, keep it before your people. Look forward to our soon to release book on Heaven.
Talk & Preach about Faith.
No matter how much we talk about endurance and provide the motivation of the eternity to come, ultimately holding on to our faith and standing firm will come down to faith. Continually preach on the need for faith and share stories of faith to build-up the faith of your congregation.
Provide Accountability.
We have to talk and preach about the subjects mentioned above, but talking and preaching can only go so far. No matter how much you intentionally preach on these topics and these Scriptures to encourage your congregation to remain faithful—they will turn away. Realize this and build-in programs to help them hold on. Create accountability so that when someone has a weak moment of faith, they can be encouraged and held to the commitments they have made.
Keep Track of Attendance & Follow Up.
One on one mentorship is the best method of accountability. Small groups or life groups follow in second. But just simply tracking attendance and actually following up when someone is out of church goes a long way. Not tracking attendance nor following-up tells your congregation that you don't value their commitment or attendance. There are great software programs and practical methods to keep track.
Go After 'Em.
Don't give up on church members who go astray. If you are keeping track of attendance and do follow-up when someone is absent, don't give up going after them! Show them how important their faith by leaving the ninety-nine and going after that wayward one.
Engage Your Church in Something Big.
A few ago, America, saw many young girls leave the freedom of the United States to travel across the world to become young wives of ISIS soldiers. The phenomenon seems absolutely crazy, but ISIS propaganda fed them a message of being part of something big. Churches fail to show the grand scope of our involvement in ministry and mission. We are a part of sharing the greatest message the world can ever know and each one of us is needed—make sure your people know this. Build up their participation and celebrate that participation and volunteerism.
Read more...
---
Stand Firm_Books
Books by Jake McCandless to help you stand firm.