We want to provide you with everything you need to hold on to your faith and stand firm. You will find stories in which you can identify and that will inspire, tools that will give you confidence in helping, and teaching that arms you with the truth.
Hold_On Stories
Real life stories from real life challenges.
While compiling historical information for a recent family reunion, I discovered countless fascinating stories of adventure, fear, tragedy, joy, loss and sorrow, faith and hope. Many of these stories reflect a firm faith in God – a hold weakened in present day America.
For a moment, let's journey back to the year 1815.
A looming threat of famine compels many to leave their homeland for the chance at a better life in another country. A man and his family board a ship in Switzerland, bound for America. That man I know only as Mr. Little.
During the six-week journey, the ship begins to take on water. In desperate effort to empty the hull faster than it fills, every man aboard sets to work at the pumps. All unnecessary cargo is thrown overboard. The situation is dire, so the captain prepares his passengers and crew for death.
Imagine the desperate prayers of those aboard that ship, praying for God to save them.
After two days and nights of constant effort leaves everyone exhausted, a hole in the hull is discovered. A ham of beef stuffed into the breach slows the flow of water. I imagine the trickling and seeping water is a welcomed sight compared to the pouring threat of impending death. While not free of danger, hope survives.
And hope lands them in Baltimore, MD. Imagine their appearance, dirty, ragged and worn, as they depart the ship. Perhaps that is why a "benevolent country man" feels compelled to provide a free meal to every passenger on that ship. What a welcomed gesture since many aboard would be indentured for years to pay the balance of their passage, including Little who is $60 short.
Sometime after his indenture is complete, Little presses westward with his family to Washington County, PA. Loading all their meager belongings onto a single covered wagon drawn by one horse – a borrowed horse – they set out to cross mountains and rugged forest terrain. In this primarily uninhabited country, the horse dies and leaves the family stranded.
With no way to rescue themselves, they cry out to God for mercy.
God answered their pleas. Once again, they are spared.
In the middle of nowhere arrives a traveler who informs them of a settler living just six miles ahead. He offers to carry the baby, probably on horseback, as the Little family follows behind on the trail. Eventually the family arrives safely to a warm welcome from strangers.
Making a life in a new country – starting over from nothing – was hard, and trials appeared regularly and were often life-threatening in those days.
Often a little perspective gives us the courage to hold on to our own faith during trying times. Sometimes that same perspective leaves us feeling a bit ashamed of what we consider a "trying time" in present day. I am spoiled to modern day life, in comparison. Without conscious effort, self-sufficiency can result in less dependence upon God, unlike our ancestors who had only God to depend upon.
God desires for us to be fully dependent on Him, not ourselves. We are not to worry, but to cast our cares upon Him. He desires for us to depend upon Him for everything, including the direction of our lives. We must trust Him for provisions, for the food we eat and the clothes we wear. (See Matthew 6:19-34) When we trust God in the "little" things, we are better prepared to hold firm when we are rattled and our faith is shaken to the core.
Before placing his family aboard a ship, and crossing the ocean to America, I imagine Mr. Little seeking God's face in fervent prayer. There is no way to be certain – I don't even know his first name – but at some point, my fourth great-grandfather passed his faith along to his children – one of whom is my third great-grandmother, Barbary Little Waggoner.
From a newspaper article published in 1899 following her death, it is reported that, "Mrs. Waggoner well remembered her father was not cast down by misfortune but exhorted his children to 'thank God' and 'to be glad we have come to America where people are so good and kind.'"
Whether or not He came to America under God's direction is hard to say, but it is easy to imagine Mr. Little as a man who held firm to his faith through so much hardship – enough for his daughter to affirm it and pass it to her own children.
"We will not hide them from their descendants; we will tell the next generation the praiseworthy deeds of the Lord, his power, and the wonders he has done." (Psalm 78:4, NIV)

"…he commanded our ancestors to teach their children, so the next generation would know them, even the children yet to be born, and they in turn would tell their children. Then they would put their trust in God and would not forget his deed but would keep his commands." (Psalm 78:5-6, NIV)
May we be good and kind people – the kind of people who thank and praise God, hold firm to our faith, and pass that faith to our children.
The kind of faith that stands firm through generations.
(Author's note: Thanks to my cousin, Nancy Breeden Mitchell, for her extensive historical research of our family, and to my cousin, Dianne Chichlowski Johnson, for providing the specific story referenced above.)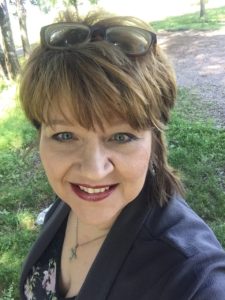 Rita Halter Thomas is a staff writer for Prophecy Simplified, providing HOLD ON Stories to encourage you to hold on to your faith. She is a pastor's wife and the mother of a college missions major. She is also an award-winning writer, the founder of The Write Editor,
http://thewriteeditor.com
, and a former newspaper and magazine publisher with 23 years' experience in print and digital media. Follow her on Facebook, Twitter or Instagram.
Read more...
---
Hold_On Podcast
Real life stories, insightful guests, dynamic teachings.
Hold_On Tools
Resources and articles that help you reach out.
Stand Firm_Teachings
Articles that provide the truth about standing firm.
Since high school I've been working in churches, and the past ten years as a senior pastor. And I believe pastoring is one of the most difficult jobs in the country. For me it was the wearing of the thirty million different hats that made it so difficult. You know how it is—as a pastor, we must be administrators, counselors, wedding planners, funeral directors, chaplains, architects, janitors, teachers, preachers, and the list can go on and on, right? So, the last thing I want to do is add something to your already overwhelming list.
But I want to tell you of a forgotten aspect of pastoring that is absolutely necessary for this time in history we now live. It's a responsibility that pastors of the past and in other parts of the world today carry-out, but not so much here in America.
In the midst, of all the different hats we wear and activities we do, we're driven by God-given spiritual tasks that we as pastors seek to accomplish within our congregations. As a pastor, we know we are called to evangelize. In each activity within our ministries, we try to share the Gospel with our flock. We also know we are called to disciple and again in each thing we do, we work to foster spiritual growth within our congregation. We also have been given the spiritual task of equipping our congregation for missions and ministry. These three spiritual tasks are why we plan the events that we plan. These tasks are why we establish the programs in our churches. They permeate every different proverbial hat we wear out within the pastorate.
But one other task needs to be weaved in the mix. Pastors, we have a responsibility to prepare our congregation.
Maybe you know this, but I didn't. I never looked at one of my pastoral responsibilities being to prepare my congregation to stand firm and hold on to their faith in difficulties now and in the future. The books I read and conferences I attended, encouraged me and helped me assimilate new members, share the Gospel more effectively, train leaders, take members deeper in the Word, and how to structure our church; but, never once did I hear anything about preparing my people.
In the process of preaching through the Olivet Discourse in Matthew 24, I was captivated by Matthew 24:10 in which Jesus warns that "many will turn away." Each time after this moment, when I stood in the pulpit and looked out at my congregation, my heart was haunted with the question—have I prepared them enough to not turn away? This verse warns that a majority of those who profess to be Christians will turn away; therefore, if my congregation faces that prophesized time many of them will turn away.
As I was asking myself this question, I realized if you took our "membership roll" you would see that many had already turned away. And for many of those on that list, they had shared with me their story. When I would follow-up on members who were no longer attending our church, the conversion typically went, "Pastor, I used to attend church and was involved in this and that, and then this or that event happened in my life and I just left." In other words, when faced with difficulty, they turned away. I began to realize that I had these conversations all the time. Usually, the event that caused the turning away was the loss of a family member, a divorce, or hurt feelings within the church.
Not only did I realize this was happening in my neck-of-the-woods, but as I began to write my book, Spiritual Prepper, on the issue, I saw that the statistics pointed to this happening all over the nation. In fact, 42 million professed Christians who once attended church were no longer attending. So, chances are you are hearing the same conversations I was hearing. Like me, I'm sure, you're frustrated with the lack of commitment and participation you see from your congregation.
Now I don't know if we are at the prophetic fulfillment of Matthew 24:10 because Jesus was talking about a specific time—the birth pains. But regardless, we are seeing people under our pastoral care leave the church.
Are we preparing our congregations to remain faithful?
Now, there is no doubt that we have taught the truth enough that our congregations should have the ammunition to remain faithful. But have we intentionally prepared them to remain faithful?
Pastor, I believe we need to start.
Of course, since I'm so passionate about this subject I have some suggestions. But more than sharing those thoughts, I hope you become captivated by the need to prepare your congregation as I became captivated.
Read more...
---
Stand Firm_Books
Books by Jake McCandless to help you stand firm.