We want to provide you with everything you need to hold on to your faith and stand firm. You will find stories in which you can identify and that will inspire, tools that will give you confidence in helping, and teaching that arms you with the truth.
Hold_On Stories
Real life stories from real life challenges.
"Oh, yay! I will finally have roots," our eight-year-old daughter squealed.
I remember well that day in 2004. My husband and I felt God calling us back to Arkansas from the Midwest, so once our direction became clear, we shared our plans. Marinna's response to our announcement struck a chord in my heart.
Roots. That word settled deep in my soul.
Why I never thought about her absence of roots, or her need for it, I really don't know. Preoccupied? Oblivious? Who knows? But in her excitement I realized she spent more time without extended family surrounding her than with them. When we left our home state five and a half years prior, Marinna was only two years old. Her young mind remembered very little of the years we lived near family.
Living 750 miles away, trips home were limited to once or twice per year.
She wanted roots.
Without family in the area when we moved to Nebraska, we depended upon new relationships to fill the void. (God intervened, and that's great story for another day.) With a fourteen-hour drive one way, weekend visits were not an option. We also moved four times in five and a half years for my job.
No family ties. No roots.
Not in Nebraska.
Not in South Dakota.
Marinna attended schools with children whose families lived in the same area for generations. The towns were small so many of her friends' classmates attended school with their cousins. She desired that familial connection. She wanted that link to her history and her heritage.
She needed roots.
No wonder the news of our return to Arkansas resulted in her spontaneous squeal of excitement.
But not just anywhere in Arkansas.
Central Arkansas.
Home.
Finally, Marinna connected with her roots. Family – not friends who became family – a blood link.
My friends, as Christians, we have a blood link through Jesus Christ. We are family, adopted heirs of the throne through our faith in Jesus, by the blood He shed for us as an atonement for our sins. When we accept Him as our Lord and Savior, we are rooted in the family of God.
When we accept Him, we have roots like no other roots.
When we accept Him, we have a home like no other home.
When we accept Him, we have family like no other family.
There is no distance too great for Him to cross every single moment of every single day.
There is no place beyond His reach; no hurt He cannot heal; no family He cannot repair; no home He cannot rebuild; no promise He will ever break.
Are we dysfunctional at times? Without a doubt. But while we are flawed human beings, we are His children. He is our Father.
Christian, trust Him with everything.
Stand firm on your Heavenly roots.
Hold tight to your Holy family tree.
Fourteen years ago, our young daughter erupted with excitement about finally being home with family, firmly planted in her roots.
God rooted deep within us a desire in our hearts for Him; the want to be near Him; to need Him.
As Christians, when we make our heavenly move home, we will no longer feel unsettled, restless, or sometimes distant from the one and only God who loves us so much, He gave us the life of His son, Jesus.
That's some kind of deep root.
That's some kind of blood link.
That's some kind of love.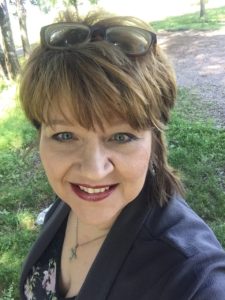 Rita Halter Thomas is a staff writer for Prophecy Simplified, providing HOLD ON Stories to encourage you to hold on to your faith. She is a pastor's wife and the mother of a college missions major. She is also an award-winning writer, the founder of The Write Editor,
http://thewriteeditor.com
, and a former newspaper and magazine publisher with 23 years' experience in print and digital media. Follow her on Facebook, Twitter or Instagram.
Read more...
---
Hold_On Podcast
Real life stories, insightful guests, dynamic teachings.
Hold_On Tools
Resources and articles that help you reach out.
Stand Firm_Teachings
Articles that provide the truth about standing firm.
I'm declaring war against an epidemic in America. No more timidity. No more holding back. There is too much on the line. What is at stake is too important.
If you follow Stand Firm Ministries or anything I've been up to the past couple of years, then you have heard my story. And I know, it's yada, yada, but again–here I go. If you're familiar with the story, you have my permission to skip the next paragraph, but not permission to exit the screen!
I was serving as pastor at a church I loved, with people I love. Life and ministry was great. We'd been there for 11 years. The church and the community were our life, and life was good! Then I began to follow a long-time prompting of the Holy Spirit to write. In doing so, somehow, I began to write about prophecies in the Bible that we often overlook, prophecies that not only tell about the political and doomsday-type stuff at the end of the age, but rather tell how we will be in terms of our faith and morality. The image Scripture gives us is not good. Matthew 24:10 warns, many of us will turn away. That prophecy opened my eyes to the reality all around us—many had already left the faith in America. An astounding forty-two million by 2015. When faced with challenges in life, many professed Christians are splitting from the church and often the faith. This was alarming, especially since other prophecies tell us those challenges will only grow more difficult.
In response to the leading of the Spirit and the findings mentioned above, I left that pastorate and began Stand Firm Ministries and Prophecy Simplified. Stand Firm Ministries was established to encourage believers to hold-on to their faith, and Prophecy Simplified to share Scripturally and simplistically the challenges that will come our way in the future.
My number one hope is to encourage local churches across the nation with the message to hold on to their faith and identify the coming challenges to the faith. Due to the stigmatism that accompanies prophecy, I have carefully guarded what I say, not wanting to hinder future opportunities. Let's be honest, we tend to think prophecy teachers are tin-foil hat wearing crazies. At least I did. So, I have walked on eggshells constantly laying out the prayer-fleece, so I'd not cross the line into crazy-town. But I can't walk that tight rope anymore. I can't suppress the truth. Too much is at stake.
Millions across the nation are departing the church and faith. Europe already has. This very morning, the Southern Baptist Convention Annual Meeting held a meeting on the possibility that the denomination was dying. Yes, part of all this turning away is just the "wheat and tares harvest", but the causalities do not have to be so high. Church members need to be encouraged to hold the line now, and we need to begin ministries to welcome back those who have walked away.
We need to know what the Bible is clear about in terms of the end. We need to recognize what has been and is being fulfilled before our very eyes. We need to be prepared to remain faithful now and in the future.
There I've said it.
I put my foot in my mouth.
I committed myself.
I exposed a calling, I've carried out sheepishly.
I hope you hold me to it. The stakes are high. Therefore, I declare war. My gauntlet is thrown down. On this hill I die. I declare war on silence. I declare war on not shouting down warnings from the wall. I declare war on the challenges that are blindsiding Christians and causing them to abandon their faith. I declare war on not being chicken-little announcing the sky is falling because it is.
Please, consider having me share in your church about this message. More than that, declare war yourself, commit to hold on.
The stakes are high—Stand Firm.
Also join our newsletter. Twice a month get a load of tools to help you hold on and fight this war, too.

Register here.
Jake McCandless is an award-winning author and the executive director for Stand Firm Ministries and Prophecy Simplified . A long-time pastor who is now co-pastor of the innovatve "above-ground underground," online church, Endtime.Church., Jake has a B.A. in Bible and Pastoral Studies from Central Baptist College, and an Advanced Masters of Divinity from Southwestern Baptist Theological Seminary. His latest book
Spiritual Prepper
released through WND Books, He also is a regular contributor to
WND News
with voices such as Joseph Farrah, Pat Buchanan, Ann Coulter, Ben Carson, Chuck Norris, Joel Richardson, Carl Gallups. He also writes for the
The Baptist Press
along with other publications. He is also a regular guest on national radio and streaming web shows, along with hosting his daily radio program Prophecy Simplified Radio and weekly podcast Hold On. Jake is married to Amanda and they have two daughters Andrea and Addison. You can follow all Jake's work at www.jakemccandless.com.
Read more...
---
Stand Firm_Books
Books by Jake McCandless to help you stand firm.