We want to provide you with everything you need to hold on to your faith and stand firm. You will find stories in which you can identify and that will inspire, tools that will give you confidence in helping, and teaching that arms you with the truth.
Hold_On Stories
Real life stories from real life challenges.
My pulse increased. The whooshing in my ears deafening. My mind ran wild with
jumbled details and I sensed the walls closing in.
Grr. Grr. Grr.
Completely overwhelmed with too much to do and not enough time to get it all done, I felt a full-blown meltdown brewing.
To make matters worse, "spaghetti brain" surfaced. Spaghetti brain. That's the term I use to describe the funky thing that happens in my head when so many thoughts are competing for my focus.
Ugh.
Do you ever feel this way? As if you will drop all the spinning plates of responsibilities, chores, hobbies and other commitments?
I easily become overwhelmed when I have too much on my plate. I am a "doer," so I live by lists. Lists help prioritize, categorize, delete, change, and realign my activities with the most important tasks at hand. Not to mention how great it feels when I mark something off my list.
Not only that, but lists save brain power. Believe me, spaghetti brain can't afford to waste brain power. Otherwise, the cranky side of me emerges amidst my panic. Trust me. No one wants to see my cranky side.
Being a "doer", I lean toward agreement words such as: yes, of course, absolutely, and no problem. As the wife of a bi-vocational pastor, mother, full-time member of the daily work force, writer, and living on a small farm with livestock, there are far more tasks to do than time in which to do them.
Sometimes even the weight of serving the Lord leaves us with a drowning Spirit gasping for air. Despite a doer's eagerness to serve the Lord, when that service overwhelms and exhausts, doers often let go, step back, and in some cases, even leave the church in search of rest. Ironic, isn't it? Those who find joy serving others in the Lord lose it from the same, giving the enemy more room to work his destruction.
Satan's clever, isn't he? Little by little he claws away at us, even intertwined in our church activities, urging us to do more and more, all while he's lurking in the shadows, plotting to destroy us, picking us apart one sliver at a time until everything comes crashing down around us.
Hear me.
Serving the Lord grows us spiritually along with quiet time spent with the Lord, Bible studies and prayer. We must serve, but we must serve as God and God alone calls us. We must learn to recognize His call, not the distraction of the enemy. We must remember Satan uses God's own Words to deceive when it suits him.
God's relationship with each person is unique and personal. Trying to join the Lord in every area He's working is beyond reality for any individual, so each believer must discern what role he or she must play. Leave God to knit each role together to serve His purpose.
If you are a list-maker, make lists to help prioritize, categorize, delete, change, and realign your activities.
Whatever you do, pray for God to guide your decisions. Pray over your lists – everything on them, the way they are prioritized and categorized. Pray about what needs to be removed from your activities. Pray, truthfully and earnestly before you commit to anything. Accept God's permission to say, "No" to things that hinder His calling in your life. Accept God's urging to "let go" of areas to which you cling for your own benefit. Let go of pride, hold on to His promises, and allow Him to realign your path. Let go of someone else's opinion of where you should serve or what you should do and cling to God's desires ahead of theirs and your own. Let go of past hurts, past failures, past sins and attitudes that grieve the Spirit.
Let go and just trust Him, then hold on until He changes your direction.
Please understand. Serving the Lord is often exhausting, difficult, frustrating, and in some cases life-threatening. God may call you to hold on and stand firm through the most tragic difficulties. At the same time, God may simply ask you, or a brother or sister in Christ to let go of one area of service only to be redirected to another for reasons unexplained. Whatever the case may be, let go of anything, including attitudes, which threatens your grip on your own relationship with Jesus. Keep your focus on the path God placed ahead specifically for you. Remove your eyes from the path God set for another.
Before you assume, no, I don't "have it all together." Writing this feels a bit like "the pot calling the kettle black", as my grandmother used to say. I too am reminded to remain focused on my own relationship with Jesus and the path He placed before me.
I am reminded that sometimes we must let go just to hold on.
"Let your eyes look straight ahead; fix your gaze directly before you." Proverbs 4:25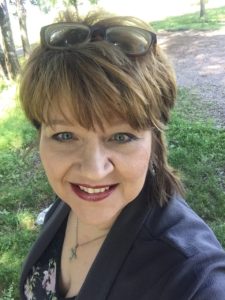 Rita Halter Thomas is a staff writer for Prophecy Simplified, providing HOLD ON Stories to encourage you to hold on to your faith. She is a pastor's wife and the mother of a college missions major. She is also an award-winning writer, the founder of The Write Editor,
http://thewriteeditor.com
, and a former newspaper and magazine publisher with 23 years' experience in print and digital media. Follow her on Facebook, Twitter or Instagram.
Read more...
---
Hold_On Podcast
Real life stories, insightful guests, dynamic teachings.
Hold_On Tools
Resources and articles that help you reach out.
Stand Firm_Teachings
Articles that provide the truth about standing firm.
I know it's a strong picture and title for a pastor to use. Especially, when he's not talking about physically picking up arms, but rather fighting a war of ideals. I believe the strong language of this blog series and the force of the war imagery is necessary because this battle carries weighty resonating consequences. As I wrote, in the first article of this declaration of war series, many American Christians have left the church and the faith. The number one reason being the result a difficult trial arising in their lives. When this happens, we'll rarely step up and hold on, more often than not we're going to split.
Statistics and experience show we're not anywhere close to standing firm now in this present time in history, so how will we ever stand if there's even greater tribulation—and there will be. And by greater tribulation, I'm not even talking about the coming time when the Antichrist and his ghoulish army march through the world chopping heads off those who don't bow to his image or take his mark. But that too will happen as foretold in Scripture—and we're not showing much promise that we'll stand in that scenario.
Rather, I'm talking about national trials that could occur at anytime such as an economic downturn like the Great Depression, heck, just another 2008-like recession. I'm talking about the continual growth in access to immorality that web designers are busy preparing for us right now. I'm talking about restrictions on religious liberty as seen across the world. It doesn't appear we're ready for the coming challenges to our faith. Again, we probably weren't ready for what we faced this morning or last night. We're not ready for the loss of a loved one, a loss of a job, going broke, a friend stabbing us in the back, a disagreement at church, the seductive glance in the office, and the list goes on. We've been lulled asleep with the ideas that Christianity brings financial prosperity and its just all about making a positive difference.
We're not prepared.
Believers across this nation are not prepared.
Our churches aren't preparing us.
And we're not preparing our churches.
I have this strange life where I get to pastor a church and attend a church. I've got this dual membership thing going (if that really is a thing). I love the church I attend. It's a magnificent church. Truth is proclaimed, people are baptized every week, we're making a huge impact in our city, and a huge impact around the globe. Seriously, its one of the greatest churches in the nation. My pastor even preaches on end-time stuff and about the reality of the world around us. He has his finger on the pulse of the times and the culture.
Even being such a strong church, I sat in the morning worship service a few weeks back and peered around at the three thousand gathered. They were hearing the Word proclaimed, but as I looked a phrase came across my heart Those words were, "They are sheep headed to slaughter." Although many around me are faithfully attending church, hearing the Word taught accurately and boldly, and going through one of the best discipleship programs in the nation—they're still not prepared. They're not ready to have their faith survive coming challenges. Heck, I don't even know if I'm prepared—and I wrote a book about being prepared for such challenges.
In my book, Spiritual Prepper, I begin with a story of a father facing ISIS soldiers who were asking if he really was a Christian, a follower of the Nazarene. This father knew that if he said yes, then not only would he probably be killed, but his family—his wife and children–could be harmed even killed. And in that opening chapter, I boldly stated the Biblical truth that even if his daughters were sold to be child-sex slaves and his sons were beheaded, the Father would make the right choice by not denying Christ and holding on to his faith. Yes, I said that. And yes, it's the absolute truth given in Scripture. Our confidence should be in God not in our own clever ways.
So, I wrote that and just the other day, I was stingingly reminded of what I had written. I was throwing myself a pity-party over not being able to provide certain things for my kiddos because at sixteen I made this crazy commitment to vocational ministry. And then I even veered off the less-than-lucrative path of pastoring to launch my own non-profit. This made even worse in that I might just be the world's worst fundraiser. (Here's a DONATE BUTTON by-the-way).
Yeah, so, I was whinning before the Lord, and then came that cut-you-to-the-bone chastisement from Him. "Jake, you wrote and encouraged people to remain faithful even to the point of their own child being beheaded, and now here you are wavering in your faith because your kids may never go to Disney Land." Ouch. Hashtag 'Murica by-the-way.
I really doubt I'm prepared. It's highly likely you are not prepared. It's more than likely your church is not prepared.
And I know the objections. First, I do know there are those of believers who would rise and remain faithful when things hit the fan, but I believe they could be even better prepared—I know I could be. Second, I imagine you're thinking that every week we're preparing our people or getting prepared by the preaching of the Word and from Bible studies, but with statistics what they are of people leaving the church and faith, we have to admit that might not be doing the trick–we're not prepared for the wimpy challenges Monday mornings pose.
I admit as a pastor I failed in preparing my congregation, even now I'm wrestling with what to do and how to better ready my people, but I do know this–we have to be intentional. We have to talk about it. We have to have the hard discussions.
Pastor, do it! Sunday School teacher share it! And I'd also love to come and share it as well.
But remaining faithful should be the goal, therefore we need to prepare
.
And if you're asking what should we be preparing to face then check out this article.
Also join our newsletter. Twice a month get a load of tools to help you hold on and fight this war, too.

Register here.
Jake McCandless is an award-winning author and the executive director for Stand Firm Ministries and Prophecy Simplified . A long-time pastor who is now co-pastor of the innovatve "above-ground underground," online church, Endtime.Church., Jake has a B.A. in Bible and Pastoral Studies from Central Baptist College, and an Advanced Masters of Divinity from Southwestern Baptist Theological Seminary. His latest book
Spiritual Prepper
released through WND Books, He also is a regular contributor to
WND News
with voices such as Joseph Farrah, Pat Buchanan, Ann Coulter, Ben Carson, Chuck Norris, Joel Richardson, Carl Gallups. He also writes for the
The Baptist Press
along with other publications. He is also a regular guest on national radio and streaming web shows, along with hosting his daily radio program Prophecy Simplified Radio and weekly podcast Hold On. Jake is married to Amanda and they have two daughters Andrea and Addison. You can follow all Jake's work at www.jakemccandless.com.
Read more...
---
Stand Firm_Books
Books by Jake McCandless to help you stand firm.