We want to provide you with everything you need to hold on to your faith and stand firm. You will find stories in which you can identify and that will inspire, tools that will give you confidence in helping, and teaching that arms you with the truth.
Hold_On Stories
Real life stories from real life challenges.
The tassels on each end of the golden honor chord, bright against the black collegiate gown, swayed slightly with each step. She paused, took a deep breath, and waited for what came next. As our daughter's full name was announced, followed by, "Bachelor of Science, Missions, Magna Cum Laude," Marinna crossed the stage, shook the hand of the college president and received the degree she worked so hard to earn – with honors.
Mixed emotions flooded my soul. Pride, awe, relief, joy, fear, confidence, peace, and uncertainty for what comes next.
Pride, because from the beginning of her college search, she targeted one place for one reason. She chose a specific private Christian college to equip her to serve the Lord in ministry. To be sure of her convictions and her calling, my husband and I offered options. She held firm to her decision and received the necessary scholarships to resolve any financial obstacles. What Christian parent wouldn't be pleased with that?
Marinna felt God directed her, and she held on believing He would provide.
He did.
I stand in awe of her spiritual growth, focus, and her Christian convictions. While far from perfect, as a deacon's kid and a pastor's kid all her life, Marinna's consistent exposure to the Word of God set a firm foundation for her. However, a strong-willed, openly opinionated child combined with our parenting faults and failings, created a real opportunity for quite the opposite. More so, I stand in awe of all God placed before her despite our parenting mistakes. I praise Him for giving her the wisdom to make good choices. As her parents, we hold on trusting God to finish the good works He started in her. (Phil 1:6)
As our graduate paused next to the college president, turned, and smiled at the camera, I released a long, slow sigh of relief as if letting go of the spiritual breath I held since her adolescence. The challenging seasons of preteen, teen, and college passed without irrational decisions, irresponsible behavior, or irreparable damage. The chick in the nest remained safe and ready to fly.
With college finished, for now at least, joy fills us for many reasons: her ministry focus; academic accomplishments; finishing college without debt. But what fills me most with joy is witnessing her growth in the Lord – both scholastic and spiritual.
Is she still strong willed, opinionated and stubborn? Yes! Imagine those traits, coupled with quick wit and a fearless nature all focused on the Lord and not the desires of this world. I fear for the opposition she will face, for her sake and theirs. Strong-willed individuals are famous for their relentlessness – a doubled edge sword for sure. Oh, the stories I could tell, but I won't – not yet, anyway.
Marinna exudes confidence and self-assurance. However, my confidence in her arises not from her own, but from God. I hold on knowing God clasps my daughter in the palm of His hand. Wherever He takes her, whatever He calls her to do, whomever He calls her to be, He will equip her, supply her needs, and finish His great work in her. As long as she remains in the center of His will, peace settles in my heart.
Then, uncertainty disrupts the peace when my mind speaks louder than my heart. The mental conversation seems more like a ping pong match between the two. So many unsettled questions served up in one part of my mind end up answered by another. "What's next? Will she be close, or far away? Will she immediately find vocational ministry, or remain in a secular job?" Then, "God knows. God's got this. God's got her." Letting go proves difficult, especially for the parents of an only child.
Maybe you feel the same. Whether your child is graduating kindergarten, high school, or college, maybe you also wrestle with the uncertainty of the future even as you know, "God's got this." Or maybe a heavy heart weighs on you as our cunning enemy lures your child away from God. Are you burdened with guilt, questioning every parenting decision you ever made, wishing things for your child would turn out differently? Maybe even as a model parent, your child chose a path contrary to the Will of God leaving you standing by, stunned, and unsure of anything.
Maybe you are the graduate and you are fighting the fear of an uncertain future.
Read these words.
Hold on.
Do. Not. Give. Up.
Trust God no matter what. Hang on in faith and pray.
Please understand, I know those words are easier said than lived. God never promised our walk with Him would be easy. Our strength for the required endurance comes from Him.
While we are proud of our daughter, God is the hero of this story – not Marinna, and certainly not our parenting skills. [If only you knew!] Even just one wrong choice opens the door for a very different outcome. Sometimes someone else's wrong choice impacts us and changes everything.
As parents, we desire the best for our children. We want to protect them.
We know the dangers of this world, potential pitfalls, and the active work of an enemy who wishes to kill, steal and destroy (John 10:10). We see evidence of his destruction and evil every day. We pray – and we should, without ceasing (1 Thessalonians 5:17).
God holds the answers to all things, is everywhere, and can protect my daughter no matter what. Knowing this gives me peace and provides comfort when I am uncertain about what comes next.
I pray you find peace and comfort in that as well.
"For I know the plans I have for you – this is the Lord's declaration – plans for your welfare, not for disaster, to give you a future and a hope." (Jeremiah 29:11 HCSB)
(Editor's Note: Thank you, President Terry Kimbrow, and the faculty and staff of Central Baptist College of Conway, AR, for our daughter's quality Bible education.)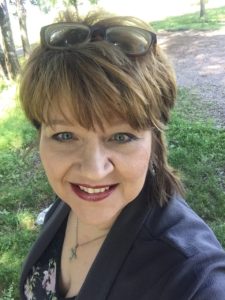 Rita Halter Thomas is a staff writer for Prophecy Simplified, providing HOLD ON Stories to encourage you to hold on to your faith. She is a pastor's wife and the mother of a college missions major. She is also an award-winning writer, the founder of The Write Editor,
http://thewriteeditor.com
, and a former newspaper and magazine publisher with 23 years' experience in print and digital media. Follow her on Facebook, Twitter or Instagram.
Read more...
---
Hold_On Podcast
Real life stories, insightful guests, dynamic teachings.
Hold_On Tools
Resources and articles that help you reach out.
Stand Firm_Teachings
Articles that provide the truth about standing firm.
If I'm crazy or irrelevant for preaching about future challenges to the faith, then so is Moses, Joshua, Samuel, Ezra, David, Solomon, Isaiah, Jeremiah, Ezekiel, Daniel, Hosea, Joel, Amos, Obadiah, Jonah, Micah, Nahum, Habakkuk, Zephaniah, Haggai, Zechariah, Malachi, Matthew, John Mark, Luke, John, Paul, Jude, and even Jesus. They all warned of future challenges and called the people of God to ready themselves to persevere. I would venture to say that those men are good company and good examples to pattern one's sermon material.
I have to admit, evangelists and itinerant preachers have it much easier in preaching. Pastors, can I get an AMEN? While pastoring, I had to have a different sermon each week and often more than one. At times three different sermons, and at that traditional pace of three sermons a week—that's over one-hundred and fifty messages a year.
Now that I'm doing the itinerant thing, the most I have to have is five different sermons when I preach a revival. But often I'm preaching the same message over and over again. Now I say this all tongue and check, it's true pastors have a difficult task of continually to preach new messages, but I don't think we should ever view it as having "to have" a sermon. Each time we preach should be a message or teaching that the Holy Spirit has led us to share with our congregation.
But it's a good thing that I only have to have a message or two, because there is one thing I am overwhelmingly burdened to share—believers need to prepare to stand firm for challenges to their faith now and especially those in the future.
Yes, challenges in the future.
Future challenges that are both normative that we could face any day, as well as, those that are prophetic and will one day befall us. But often the response I hear towards preaching on being spiritually prepared for future challenges, is "That's not the type of thing we talk about our church." Or "We focus on messages that are relevant to everyone's life and prophecy doesn't really fit that." And "We make sure we have practical messages that the congregation can apply to their life."
Listen, I'm glad churches have strategies and know the demographics of their congregation. I also know all too well that preaching on prophecy and end-times stuff has been greatly abused–the stigmatism is understandable. I'm also glad messages are intended to be relevant and practical, but as I wrote about in my previous post American Christians aren't prepared to remain faithful.
Relevancy is not set by the culture or what we are doing tomorrow, rather the reality presented in Scripture shows what is relevant. And leaders of God's people in history and the Biblical writers have felt that future challenges are relevant and important to their people. So, what has led us to change that precedent?
Moses warned of the challenges the Israelites would face in the land.

The prophets warned of the looming consequences if Israel did not return.

Jesus warned the disciples they would be hated and persecuted.

Paul called the believers in Ephesus to put on the armor of God for the pending attacks of the devil.

Peter called the believers scattered in the diaspora to be alert because challenges were prowling in the shadows.

John relayed the words of Jesus given on the Isle of Patmos, that the believers in the seven churches of Asia needed to be overcomers and hold on until the end.
It's relevant for eternity and it's relevant for our souls to hear messages about what lies ahead, even if that keeps us from hearing a relevant message of how to deal with our anger at work that next week.
Even before I became overwhelmed with the message to stand firm, I learned the
hard way that pastors need to not only equip church members for today, but also prepare them for the future. In my time as a youth pastor, I focused on challenging students to live for Christ that week in their high school and how to date in a God-glorifying manner. Helpful stuff, but they were only in high school for four years, while they're going to be adulting for the rest of their lives. I should have been preparing them to follow Christ for the long haul.
Believer please look past what you practically need right now and utilize the Word to prepare yourself for future trials. Pastor, small group leader, or Bible Study teacher, yes, your people need practical application, but that application also needs to extend to future challenges. It's not wrong to warn about the future, the Bible does.
Read more...
---
Stand Firm_Books
Books by Jake McCandless to help you stand firm.